Los Angeles - Home Windows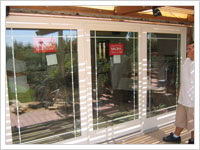 Quality windows that keep your home or office building well-insulated can help you maintain a safe and energy-efficient environment. Walnut Valley Glass offers prefabricated and custom made window products, as well as install, repair, and replacement services. Contact our Los Angeles-based company for a home windows estimate.
Window Installation
The installation of windows that offer complete protection from environmental elements is crucial in protecting your home or business from the effects of pests and weathering. Unfortunately, not all contractors take the time to properly install windows and apply sealants to conceal all openings. The resulting exposed crevices can affect electric, heating, air conditioning, pest-control, and other monthly bills.
At Walnut Valley Glass, we make sure that your windows are expertly installed so you can avoid higher energy costs and future repairs. Are you interested in obtaining an estimate for your home or business? Submit a custom quote today!
Windowed Doors
Windowed doors can add a beautiful touch to any home or business. We offer full and partial glass doors for your home or business, including front doors, patio doors, and french doors.
Types of Windows
The following are some of the popular types of windows we offer:
Garden windows
Bay windows
Sliding windows
Casement windows
Aluminum windows
Wood windows
Vinyl windows
Fiberglass windows
Window Screens
Our window services would not be complete without providing our customers with screens that complement their windows. We can make sure you find the appropriate screens for your windows and install your windows and screens on the same day.
Los Angeles Home Windows - Estimates
At Walnut Valley Glass, we offer window products and installation of the highest quality. Contact us in Los Angeles to see the windows that we carry.