Commercial Glass and Window Replacement - Los Angeles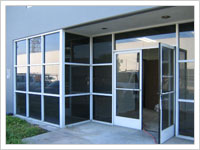 At Walnut Valley Glass, we can help you create an office environment that provides a more efficient and safe space for employees and customers, at a competitive price. From the installation of windows, glass partitions, and doors, to the retro-fitting and repair of existing facilities, we provide Orange County, San Bernardino, and Los Angeles with commercial glass products and services.
Glass doors
Herculite glass door
Door closures
Panic exit devices
Glass shelves
Office glass partitions
Conference room glass partitions
Reception area office partitions
Sound proof glass
Bullet proof glass
ADA (American Disability Act) retro-fitting for handicapped access
Scratch removal
Anti graffiti film
Leak repair
Water damage repair
Custom made office and reception windows
Window installation
Window repair
Window replacement
Window screens
Los Angeles Commercial Glass
Walnut Valley Glass has been providing the area's businesses with quality custom windows and glass since 1969. Contact us today in Los Angeles for a commercial glass estimate.