Modern Bathroom Decor with Glass Tub Enclosures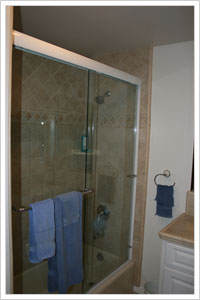 Glass tub enclosures complement glass shower doors for those seeking the ultimate in contemporary bathroom design. At Walnut Valley Glass, a Los Angeles glass company, each glass tub enclosure that we carry features expertly-crafted glass work and are professionally installed by our team. If you are renovating your bathroom, consider using modern glass designs to update your decor.
Custom Designed Tub Enclosures
All too often, our customers need tub enclosures that are a specific size and designed in their desired aesthetic. At Walnut Valley Glass, we can help you design your tub enclosure and have it custom made employing superior glass work.
Glass Tub Enclosure Installation
Professional installation of your glass tub enclosure is imperative in ensuring that it does not get damaged during the transport process and that it is installed correctly.
Los Angeles Glass Tub Enclosure Estimates
Contact Walnut Valley Glass in Los Angeles if you are interested in having a glass tub enclosure installed in your home's bathroom. We offer custom glass products at fair prices.