Los Angeles Glass Store Front Windows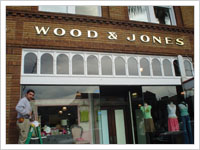 Maintaining the appearance of your store front is important for business owners who wish to uphold a positive image in their community. Whether you need a completely new store front or simply need repair services, the team at Walnut Valley Glass have been the trusted glass and window experts for commercial office buildings since 1969. Contact us in Los Angeles to obtain your glass store front windows estimate.
Prefabricated and Custom Made Glass and Window Products
Our pre and custom made glass and window products meet the needs of all business types. Some of the store front glass work our customers request include:
Windows
Glass doors
Sound proof glass
Bullet proof glass
Store front metal - glass - doors
Store front door repair
Glass and Window Installation and Repair
In addition to providing businesses with quality glass products, we offer professional installation and repair services. If your business' store front glass is damaged, we may be able to restore it to its original state using mechanical restoration techniques. If not, we can install replacement glass that retains the look of your store.
Emergency Board-up Services
If your business has sustained damage that leaves you unable to secure your space, you need emergency board up services to prevent trespassing and vandalism. Walnut Valley Glass provides emergency board up services to Los Angeles, Orange County, and San Bernardino area businesses that have been damaged as a result of theft, natural disaster, fire, or some other event.
Los Angeles Glass Store Front Windows
We are dedicated to providing Los Angeles businesses with glass store front windows and quality glass work. Contact Walnut Valley Glass today for emergency board up services, custom made products, or glass installation and repair.